Missions
Scripture commands that we glorify God by reaching all people groups proclaiming the Gospel of Jesus Christ, discipling believers and meeting human need so that people everywhere may be reconciled to God and to each other.

FAITH OVER FEAR GLOBAL OUTREACH CONFERENCE
In this post-pandemic world where there is uncertainty and escalating fear from uncontrollable circumstances all over the world, there is an opportunity for you to come and develop your Faith over Fear. The Gibson City Bible Church will be hosting a Global Outreach Conference Saturday, March 25 - Sunday, March 26 at the church. Several events are planned and all are welcomed and encouraged to participate. The keynote speaker during Sunday morning worship service is Robb Warfield, a former Gibson City resident, whose decision to follow Christ led him and his family into the mission field in Africa. Other missionaries attending include Doug and Cindy Tankersley (Men for Mission), Lucas Pulley (Underground Network), Brandi and Bill Pierce (Pregnancy Resource Center), Karen Kornelson (SIL International and Wycliffe Bible Translators), and Levi Marti (Base Ministry). See the schedule below for times and speakers: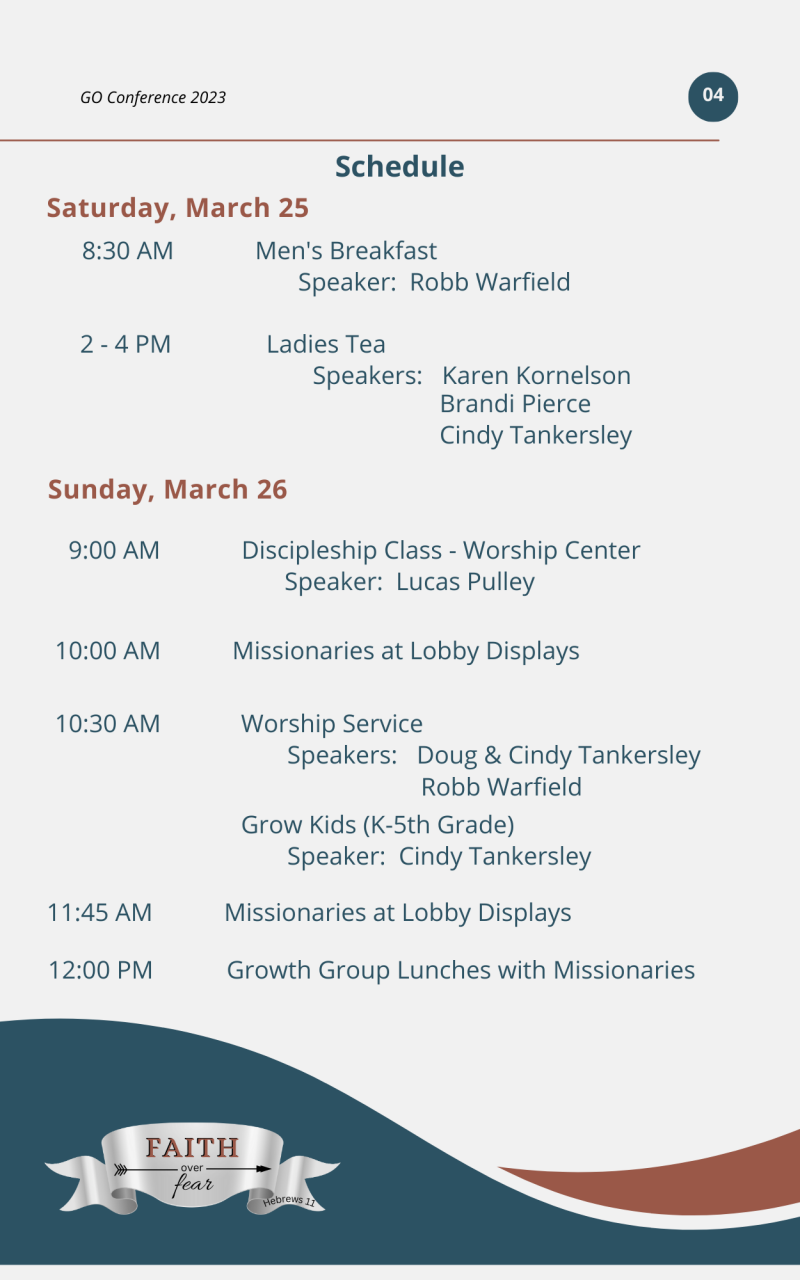 Missions - US
GCBC supports Missionaries who minister mainly in the United States of America. Contact the church office for a listing of current US supported missionaries.
Missions - World
GCBC also supports Missionaries who serve internationally in strategic locations, who, due to the sensitive areas they serve, are not able to be listed publicly. Contact the church office for a listing of current International missionaries.
Missions - Local
Gibson City Bible is also passionate about "Outreach in the name of the Lord Jesus Christ" in Gibson City and our surrounding communities.
Missionary Fellowship
The GCBC Missionary Fellowship gathering is open to all women who have a heart to craft, quilt, and sew projects that support our Missionaries and Ministries. Missionary Fellowship meets the 4th Tuesday of each month, except November and December at 9:30 a.m. All are welcome!
Konstruction Kids - A New Kind of Konstruction Since their inception in 2004, Konstruction Kids whose motto is "We Build for Eternity" has raised over $8000 for mission work around the world. That's quite amazing coming from this small group of Pre-K through 8th grade kids that attend the Wednesday Night program. The Wednesday Night program is our outreach to unchurched kids in the community. The program runs from September through April and ministers to approximately 140 kids ages Pre-Kindergarten through fifth grade. Many of the children are part of the GCBC church body but many are not. Konstruction Kids motto, "We Build for Eternity" is understood to mean that they build for eternity through their offerings & prayers each week. Most children bring in small change but it all adds up when God blesses it.
FCA Power Camp
Watch the video below for highlights from our 2022 FCA Power Camp.